A summer holiday on the farm
in Radstadt, Forstau

Radstadt and its surrounding area offer relaxation and adventure in summer. The historic town centre charms visitors with tradition, culture and fun festiavls. The town's attractions include the late-Romanesque parish church, the Gothic guard posts, the well-preserved town walls and the local history museum.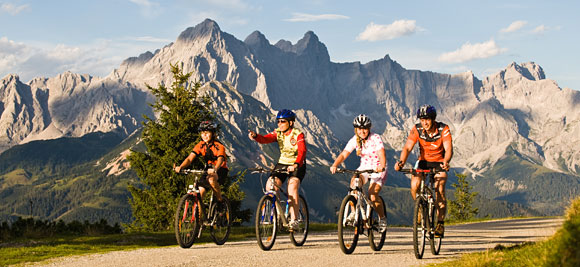 Hiking and biking in the Salzburger Sportwelt
Radstadt and its surrounding area is a real paradise for hikers and mountain climbers. There are a wealth of footpaths available. To the north lies the mighty Dachstein range, to the south the Radstädter Tauern. Those who climb the almost 1,800 high mountain in Radstadt, the Rossbrand, are rewarded with a spectacular view of over 150 alpine peaks. Radstadt is an excellent base for bikers as this small town lies on the well-known Enns Cycle Path. Mountain bikers will also find numerous trails in and around Radstadt.

The Therme Amadé Spa and attractions in the region
On a rainy day you can can enjoy a day at the Therme Amadé Spa. A particular highlight is the unique loop water slide. In addition the Province of Salzburg boasts a wide variety of sights & attractions. Receive free admission to over 190 attractions with the Salzburger Land Card.
Leisure facilities in Radstadt:
Horse & carriage rides
Crazy golf course, summer curling rink,
Children's playground
2 local history museums (open from May to Oct.)
Guests' library
Festivals & folklore evenings
Bathing lakes in the area
Cosy restaurants and bars

18-hole golf course incl. driving range
Network of cycle paths, mountain bike trails and bridle paths
280 km Enns Cycle Path
60 km of marked footpaths
Outdoor pool with 40 m long water slide
9 indoor and outdoor tennis courts
Riding stables, riding arena
Riding course, pony riding